We are a small association recognised as a non-profit organisation with the aim to help people in need in Kenya.
How it began
Annoying, begging children – contemptuous looks from adults.
A holiday at the South Coast of Kenya turned into a life's mission for the Dürr family from Ingstetten (district of Neu-Ulm in Bavaria, Germany).
The extreme contrast of the breath-taking natural environment to the living conditions in one of the poorest regions in Kenya, and especially the countless street kids, motivated this family to devote their life to the children in need and the abandoned babies in this part of a supposedly "rich" country.
On the one hand the luxurious hotels and beaches of Diani, on the other the misery along the roadside plainly visible to everyone. The place was well chosen!
In 1997, the Dürrs founded the charity association Projekt Schwarz-Weiß e.V.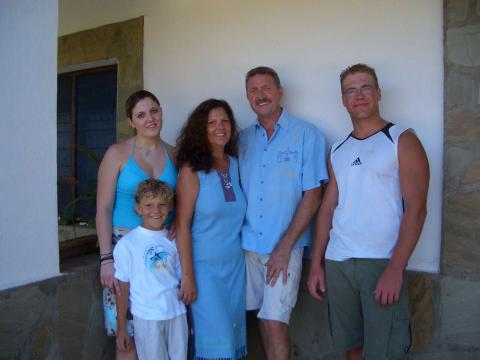 A children's village becomes reality
Although the association only had modest means during the early years after its foundation, Gudrun Dürr started to build the first children's village (Nice View I) on a plot of land privately bought in 1997. On March 13th, 2000, the first eight children came to Nice View. The Kenyan government registered the institution and the Youth Welfare Office soon sent further needy children to Nice View.
While Edmund Dürr lent a hand with building the houses and Gudrun Dürr took care of the children day and night, more and more children found shelter and protection in the Nice View Children's Village. Some of them would probably not have survived the next days.